Chinese Plum Sauce made with Fresh Plums
The box arrived late afternoon, a surprise knock on the door after the dogs did their usual boisterous greeting. Well, maybe not so much a surprise as Shannon was raised politely and called ahead to make sure of her welcome. The box filled the kitchen with an intoxicating aroma emanating from the ripe, sweet fruit with no-name, looking a bit like a miniature Santa Rosa, but not quite. Red fleshed stone fruit piled high. Succulent, juicy with a heady scent, each plum nearly splitting at the seams. Waiting. Time was of the essence, ripe fruit waits for no one.
Like a big smug bear my darling motioned to the box as I walked in the door from work. "Shannon brought you your plums." We had run into our friends on Sunday at the market, as neighbors sometimes do; trying not to block the aisle as we catch up chit-chatting when she mentioned the profusion ripening on their trees. "Would you want some?" she asked. Indeed. It has been nearly twenty years since having our own plum trees at the farmhouse on Chanticleer that offered the opportunity of that just picked ripeness, sunshine flavor and jam making bounty. Yes, indeed.
There is a childlike, sensual pleasure in squishing and rendering the last bit of juice and pulp from ripe stone fruit. A bit slippery, a bit slimy but in a good way as you work it through the colander with a feeling of achievement when one more cup is extracted. Certain treasure that would have been lost had you been in a hurry or lacked persistence. Nearly two gallons for inspiration, one quart reserved for an experiment and the rest tucked away in the freezer when time allowed for a day of preserve making. And what a grand experiment did I have in mind.
One best things that has happened to me in this food focused adventure is the opportunity to meet culinary heros. Even if it is ever so briefly to get a moment of conversation, a handshake or autograph on a cookbook. I tried my best not to gush, to retain a bit of composure and class and ultimately it was the warmth of character and humanity of the chef himself that put me at ease. Chef Martin Yan is that cool in person and that funny as I watched him as co-master of ceremonies at the IACP (International Association of Culinary Professionals) Awards program.
My Dad learned how cook basic Chinese food by watching Yan Can Cook on PBS in the eighties. We would watch together as he joked and taught the techniques of wok cooking and flavor combinations. These dishes became a staple in our dinner rotations and often we would just yearn for some smoked pork fried rice (recipe here if you are interested.) Chef Yan in addition to his restaurants, cookbook authoring and interest in promoting Chinese culinary heritage  is also an honorary board member of the the The Culinary Trust which "achieves its mission through scholarships and grants for students and professionals, cookbook preservation and restoration, educational programs and grants for hunger alleviation." So the imagine my delight to meet him in person, truly a full circle experience and I felt Dad at my shoulder, beaming.
So, with my newly autographed copy of  Martin Yan's China (the companion volume to the PBS series) I looked up Chinese Plum Sauce, or as it is sometimes known as Duck Sauce. The sauce is traditionally made with salted plums, and I suspect each cook has their own variation so with no salted plums on hand I boldly went going forward anyway. No salted plums? Fresh plums could work too! While there was no actual recipe in the cookbook, the list of ingredients within the glossary gave me a starting place.
"A mixture of salted plums, apricots, yams, rice vinegar, chilies, sugars and other spices…."
The result is a vibrant garnet colored sauce,  flavorfully savory and yet sweet. I also used this for glazing roasted grilled duck or chicken (in the last 15 minutes of cooking,) or as a pizza sauce instead of the traditional tomato with delightful results.
Chinese Plum Sauce made with Fresh Plums
A fresh take on a staple sauce used for dipping and glazing.
Ingredients
4 cups fresh ripe red fleshed Plums, pitted and chopped
1 cup fresh Apricots, chopped
½ cup Red Onion, minced
3 Garlic Cloves, minced
2 tablespoons fresh grated Ginger
½ cup cooked Garnet Yam, chopped
½ cup apple Cider Vinegar
½ cup Rice Vinegar
1 teaspoon Lemon Juice
¼ cup Low Salt Soy Sauce
1 cup Coconut Palm Sugar (or Brown Sugar)
⅓ cup Honey
¼ teaspoon Chinese Five Spice
1 Star Anise
½ teaspoon ground Sichuan Pepper
Instructions
Wash and remove pits from plums and if they are very ripe, squeeze the remaining juices from the bits by pressing them through a colander.
Place ingredients in large sauce pot and bring to a boil.
Lower heat to simmer, low bubbles and cook for 25 - 30 minutes uncovered until thickened.
Removed from heat and cool for 15 minutes or so and then run mixture through a cone shape colander; working the flesh with the pestle.
Scrape down the outside of the colander to collect all the good fruit.
Next run the mixture through a fine sieve, pressing the flesh with a spatula. This creates a creamier texture and consistency.
Fill sterilized canning jars, seal and either refrigerate/freeze or process using standard canning instructions with 15 minutes water bath processing.
A note about Coconut Palm  Sugar
I used organic Blond Coconut Palm Sugar (unrefined, vegan, gluten-free) which provided the rich brown sugar flavor but is lower on the glycemic index and nutrient-rich. There is some controversy on the production of this product as the trees cannot produce both this sugar made from the nectar in the blossoms and therefore cannot produce coconuts (where we get all types of products including coconut oil and raw coconut.) The sustainability and future production of this sugar should be watched in context of the overall health of the regions producing coconut products.
Link up with other Fresh Foods with Fresh Food Wednesdays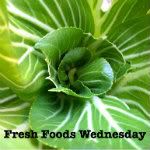 ---